Accessing remote Learning at home
Sharing a video in Microsoft Teams
Sharing a video in Teams
Open the link to the video you have been sent (and pause it if necessary)
Once in Teams, click the screenshare button

This will bring a dropdown menu like the one below. Really important – remember to check the box "include computer sound". Then select the video from the selection under "window".
It should come up with a red box around it – the red box just shows what everyone else can see – and you just press play.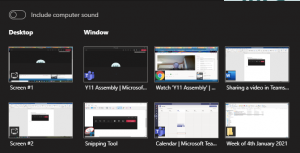 Ending a meeting in Teams
A number of you have reported that if you click the red telephone symbol that says "leave" (see above) it takes you out of the meeting but the pupils can still stay in there. If, instead, you hover the mouse just to the side of "leave" you will get a dropdown menu which includes "end meeting". This will end the meeting for everyone.
Alternatively, in some versions of Teams, you will find this under the ellipsis on your toolbar.
Tootoot
GCSE Science at Home
Year 7 Diploma
Year 7 Diploma 2019/2020
This year we are launching a new initiative, called the "Year 7 Diploma". This rewards and encourages strong academic performance, extra-curricular engagement and contribution to the local/global community. Click HERE for further information.
Extra Curricular Clubs
At Hall Green School we offer a wide range of extra-curricular clubs. At times clubs may have to be cancelled at short notice an this may be due to weather conditions, staff absence or other unforeseen circumstances. Parents may be contacted regarding cancellations, but please be aware this may not always be possible. If you are unsure, please contact the school office.
Our Homework Club is back! We have staff available at lunchtime (Monday to Thursday) in Room D3, and from 3:15pm until 4:15pm in the same room. Whether you would like to work independently or require some support, please feel free to attend.
Exam Information
At Hall Green School, we strive to get the best results for our pupils. This includes preparing you for your examinations so that you can successfully move onto bigger and better things! The awarding bodies set a strict criteria which must be followed by all pupils for the conduct of examinations and all coursework/controlled assessment. Pupils, should therefore pay particular attention to the Important Exam Notices and any notices in or around examination rooms.
The following links show the guidance and regulations for exams from all awarding bodies covering both GCSEs and all other externally assessed qualifications. Please take time to familiarise yourselves with the documents and make sure you adhere to all the exam regulations. You could risk being disqualified from one or all of your exams if you do not follow these regulations.
Exam Timetables
Year 11 Mini Assessment Calendar
Exam Regulations & Guidance
Click the links below to see more information.
Exam Boards Information for 2020-21
GCSE reforms Information Paper  for Students 2018
ICT Policies
Option Booklets
Lexia PowerUp Literacy
Health & Wellbeing
Resources for Schools to Support Health and Wellbeing and Online Issues
Body Image
Talking to kids about media and body image – tip sheet http://mediasmarts.ca/sites/mediasmarts/files/tip-sheet/tipsheet_media_effects_on_body_image.pdf The Boys' Biggest Conversation – encourage teenagers and young men to talk about body image and the effect it has on their mental wellbeing Website: http://boysbiggestconversation.com Teaching Resources: http://mediasmart.uk.com/resources/teaching-resources Mindful Me – helps girls build body confidence and self-esteem. Focuses on body awareness, mindfulness, self-kindness, empowerment, and positive emotions.
https://www.berealcampaign.co.uk/education-resources/11-activity-guide-for-mentors-of-girls-from-the-dove-self-esteem-project Confident Me – For teenagers: addresses key topics including the impact of society, professional and social media on appearance ideals, and give teachers strategies to boost students' confidence. https://www.dove.com/uk/dove-self-esteem-project/school-workshops-on-body-image-confident-me/self-esteem-school-resources-confident-me-five-sessions.html Parent Support Resources in developing self-esteem in their children https://www.dove.com/uk/dove-self-esteem-project/help-for-parents.html
Sexual Images
You want Nudes? – website full of resources regarding sexting http://dontgetsextorted.ca/#home Hot Topics from Childnet – for Parents and Carers on issues such as sexting, grooming, livestreaming and video chat and webcams https://www.childnet.com/parents-and-carers/hot-topics lnternet Watch Foundation (lWF) – anonymously and confidentially report: Child sexual abuse content and/or Non-photographic child sexual abuse images https://www.iwf.org.uk/ Child Exploitation and Online Protection (CEOP) – confidentially report: If you have been a victim of sexual online abuse or you're worried this is happening to someone you know. https://www.ceop.police.uk/safety-centre/ Professional Online Safety Helpline – Supporting professionals working with children and young people with any online safety issues they, or children and young people in their care, may face. https://www.saferinternet.org.uk/professionals-online-safety-helpline
Other Resources
Digital Five 3 Day – gives children and parents easy to follow, practical steps to achieve a healthy and balanced digital diet. https://www.childrenscommissioner.gov.uk/2017/08/06/digital-5-a-day/
Surveys
PSHE Feedback (Year 9 only)
Pupil Attitudes Survey (all years)
Most pupils will get the opportunity to complete this in class, but if you have not done so and wish to, please follow the link and do the survey