Special Educational Needs
Accessing remote Learning at home
Please find important links below for letter home for parents/carers, accessing remote learning at home, and a guide for pupils to uploading work to Class Charts.
Sharing a video in Microsoft Teams
Sharing a video in Teams
Open the link to the video you have been sent (and pause it if necessary)
Once in Teams, click the screenshare button

This will bring a dropdown menu like the one below. Really important – remember to check the box "include computer sound". Then select the video from the selection under "window".
It should come up with a red box around it – the red box just shows what everyone else can see – and you just press play.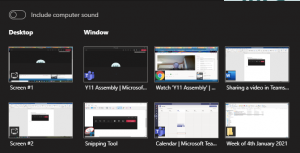 Ending a meeting in Teams
A number of you have reported that if you click the red telephone symbol that says "leave" (see above) it takes you out of the meeting but the pupils can still stay in there. If, instead, you hover the mouse just to the side of "leave" you will get a dropdown menu which includes "end meeting". This will end the meeting for everyone.
Alternatively, in some versions of Teams, you will find this under the ellipsis on your toolbar.